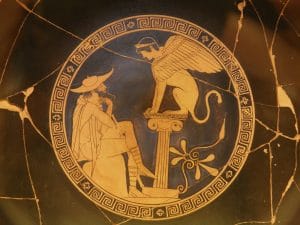 My decision to write a musical based on the myth of Oedipus did not come out of nowhere. It's been in the back of my mind for a long time, though I only started to properly focus on it at the end of 2014 when my old band The Bedlam Six went on hiatus.
I guess the germ of the idea first drifted into my life around 1998. I was studying drama at school and one of our assignments was to devise a piece of theatre inspired by greek mythology. The majority opted for a comedic approach but I was already mostly known for slapstick and wanted to try something serious. My classmate Tom Kelly and I had become fascinated by the Russian Revolution so decided to write a script that transposed the story of Oedipus from ancient Thebes to 1917 St Petersburg. We called it Oedipus At Petrograd, a story that took the age old cycle of son usurping father and widened it into a piece about shifting ideologies and regime change (King Laius was Nicholas II, Oedipus was Lenin and, in his latter years, Stalin… with plenty of mentions of MOTHER Russia). It was all a bit vague and what we lacked in nuance we made up for in flag-waving and red lighting.
Despite a career in which I have mostly tried to make people laugh, it is tragedy that I have always found more alluring in private. This is not due to any predilection for the macabre – contrary to what you might assume from my music videos, I don't actually particularly like horror or take any pleasure in tales of cruelty – it's the self-made ropes that people use to tie themselves up in at every level of society that I find interesting. Tragedies don't have to be violent, they merely have to place their characters on the course to something utterly inescapable. It is the inevitability of tragedy that makes the subject so compelling.
What does this have to do with musicals?
I have a peculiar relationship with musicals. I think a lot of us do. I can't think of any other artform with the capacity to be so wonderful and so horrendous (sometimes simultaneously). Some of my favourite things in the world come from musicals (eg Ron Moody Reviewing The Situation or Donald O'Connor singing Make 'Em Laugh) and also some of my least favourite things in the world (eg the WHOLE of La La Land). Here's a big confession: I dislike most musicals. But the musicals I love (and comparatively there aren't that many), I love so much that they eclipse all the ones I hate. Basically, this is a feeling that's tailor-made for the relationship status It's Complicated.
But I like complicated. Look at all the terrible things happening in the world right now. Most of them are happening because manipulative people are offering simple solutions to complicated issues. The sooner we all start to accept most things are really complicated the sooner we properly progress as a species. Most musicals try to keep things simple. The best ones, however, don't. In Lionel Bart's Oliver! Fagin is a villain who exploits everyone he meets – but we like him because he's torn, he's reacting to difficult times, we understand that he's a human. It's complicated. People are rarely pure evil, they are weak or scared or angry. I decided that I wanted to write a musical featuring complicated characters trying desperately to carve out a niche for themselves in a changing world. And I wanted it to be a tragedy because, in a complicated world one can rely on tragedy to be simple. Fate does not care about anyone's plans, it just fixes you in its tractor beam and yanks you into the abyss.
And what is the only classical tragedy that still has the power to foster within us a serious dread and repugnance in an age where we see pointless death dished out every day on the news? It's got to be Oedipus. Oedipus is a story about being fated. The specific horrors of the narrative are nothing compared to the palpable sense that one has absolutely no power to change the course of one's life. People continually play this story for laughs (the best being Tom Lehrer's song Oedipus Rex) but I'd argue that's because most people are far too appalled to allow themselves to take it seriously.
The more versions of the Oedipus story I read/watched, however, the more I was convinced that we were all focusing on the wrong character. Oedipus drifts from one event to another, he shows brains in some situations and brawn in others, but it's all a bit linear. His mother, on the other hand, is a woman who has the most tumultuous of emotional journeys and yet is constantly relegated to the sidelines; indeed in most dramatisations (and I think we have Sophocles to thank for this) even her suicide happens offstage. What is every author's problem with Jocasta? She's just as fated as her son and, arguably, goes through a lot more. What is the big insecurity here? I spoke to my own mother, an anthropologist, about this weird narrative trend. Is it just everyday sexism played out in classical mythology? Her answer was simple (sort of): "Ethnographically one always finds patriliny tends to develop alongside the move to both property and the the State whereas matriliny is more obvious as a system… I see the Oedipus story as the dramatisation of the death struggle of matriliny. For me the myth plays on the confusion inherent in a structural shift and the emerging violence of the State."
Well, I thought, that settles it. This will not be Oedipus The Musical, it will be Jocasta The Musical. Oedipus won't even get his own song (try as he might). And, when it comes to the final reveal, it can be Oedipus who whimpers in the wings while Jocasta comes to violent terms with her dreadful destiny in full view of the audience.
Finally, you're probably wondering where Freud figures in all of this, having monopolised the myth for over a century with his Oedipus Complex. Back to my own mum for the retaliation: "the myth doesn't explain sons, it explains mothers!"
She went on to tell me that my own grand-mère (my dad's mother) once said "I began to hate my daughter-in-law the day my son was born".  That is the crux of the Oedipus myth. And remember, it isn't children who tell the stories but mothers.
So this was how the project began. Next I just had to write some songs and a script.
But that's a subject for another article (or several)…
Read an article about adapting the myth
Read an article about composing the songs
Read an article about writing the script
Read an article about the studio team
Read an article about recording the rhythm section
Read an article about recording the singers
Read an article about the orchestration
Read an article about recording the crowd vocals
Read an article about mixing the album
Read an article about the live showcase

And here's a piece about being funded by Arts Council England