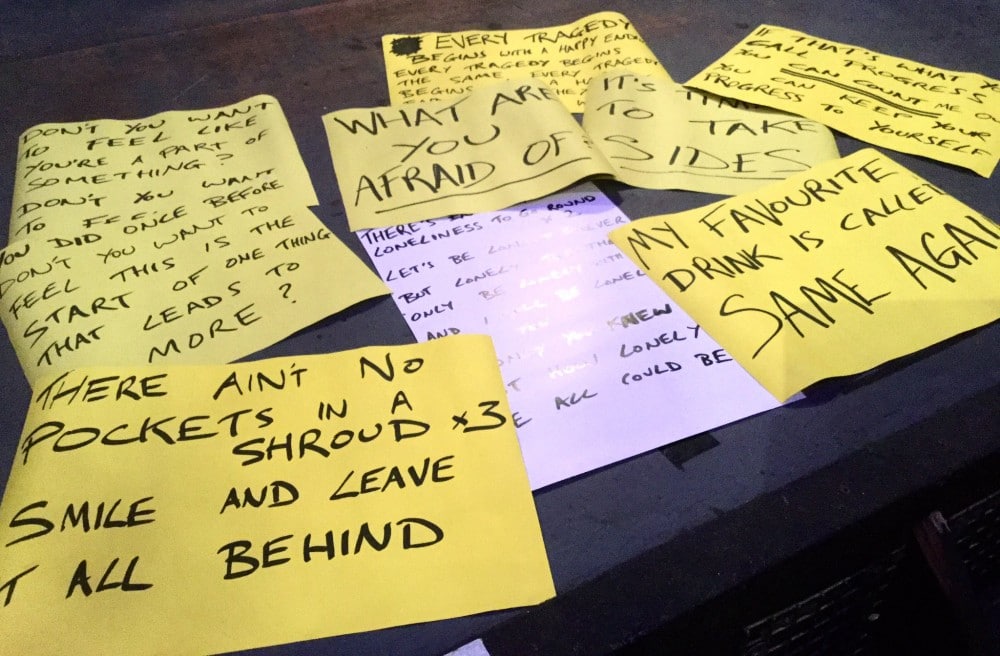 There's a line sung by one of the villains that goes "The word PEOPLE just means you and me but THE PEOPLE means THEM. And THE PEOPLE to you and me tend to be a problem".
Like many powerful men he takes the view that all who exist outside his immediate circle of privilege are just one great big homogeneous mass – a barely sentient herd to be managed, manipulated and, if possible, exploited.
Then there is the other side, the characters who band together against the odds and sing lines like "Don't you want to feel like you're a part of something?" expressing a shared enmity towards a government who repeatedly works to push them down.
Whatever your thoughts on People Power, we can all agree it's a difficult thing to fake. How to capture that sense of a multitude on record? Hundreds of voices all bringing their own personal sense of rage to a situation. But not just rage: all the human feelings, complex and simple.
Actually it's not that difficult. Just go to the pub. After all, that's where most of us put the world to rights.
Debt Records holds an ongoing series of events called The Open Recording Sessions, it's one of the ways the label attempts to make our little niche of the music industry a bit more transparent and inclusive. Usually it's a band recording a few tracks in front of an audience but in this instance we organized a crowd vocal session in the event room of the Eagle Inn, Salford. People of all ages and singing levels were welcome. It's amazing what you can achieve with a few microphones and a lot of beer.
Some songs required the sound of people on their way to a street fight, others the background noise of a music hall singalong. And, of course, the drink flowing all the while. So we ordered the songs accordingly: Most Sober (political numbers) all the way to Barely Upright (tavern scenes). It worked very well and I was pleased to read comments from attendees the next day on social media that they couldn't get the songs out of their heads (or indeed the hangovers).
But there are also quieter moments where the main characters encounter a supporting cast of public officials, medical staff, journalists, bankers and all sorts. So the record is peppered with friends. Longtime label collaborator Andrew Ab (who has done photo shoots and music videos for Bedlam Six, Felix Hagan & The Family, T. E. Yates, Honeyfeet and The Arbour to name a few) crops up as a doctor in a mental institute; my old school teacher Elizabeth brought her two daughters to the studio and they took part in a couple of numbers; also I asked Joe Solo, Claire Mooney, Matt Hill and Laura Kidd (all DIY singer-songwriters I admire) to join the fictional revolution as well as Manchester poet Tony Walsh (aka Longfella) and all-round doer Ruth Daniel (who I've worked with in the past as part of Un-Convention and In Place Of War projects in places like Uganda and Spain). I felt it was important that lines like "those who can't be saved can still be avenged" were sung by people who I could actually imagine punching a fascist in the face.
A project like this is a good excuse to get together with lots of people you like, as well as people you'd like to get to know better.
And in the end one thing's for sure: whatever your feelings about them, you can't do something like this without PEOPLE.
BACK TO MAIN JOCASTA PAGE

Read an article about adapting the myth
Read an article about composing the songs
Read an article about writing the script
Read an article about the studio team
Read an article about recording the rhythm section
Read an article about recording the singers
Read an article about the orchestration
Read an article about mixing the album
View photos from the Lowry showcase event
View rehearsal photos
Project Overview / Final Thoughts
And here's a piece about being funded by Arts Council England