Entries from our first European tour. These were originally written for the band blog, which is supposedly penned by a sort of homogenized version of everyone present, so on the occasions where I mention myself I do so in the third person. Yeah, I know… that way madness lies.
***
Bruges: 16 March, 2011
Well, we've reached the end of a long day's travelling. Dan and Biff have done great work piloting Bessie around unfamiliar territory – especially Dan who got us out of a tight squeeze in a one-way alley when the Sat-Nav screwed us over. Tensions were high at that point and fisticuffs were only narrowly avoided, but once we reached our destination at the Lybeer Traveller's Hostel (which we heartily recommend to any visitors to Bruges) all thoughts of violence evaporated.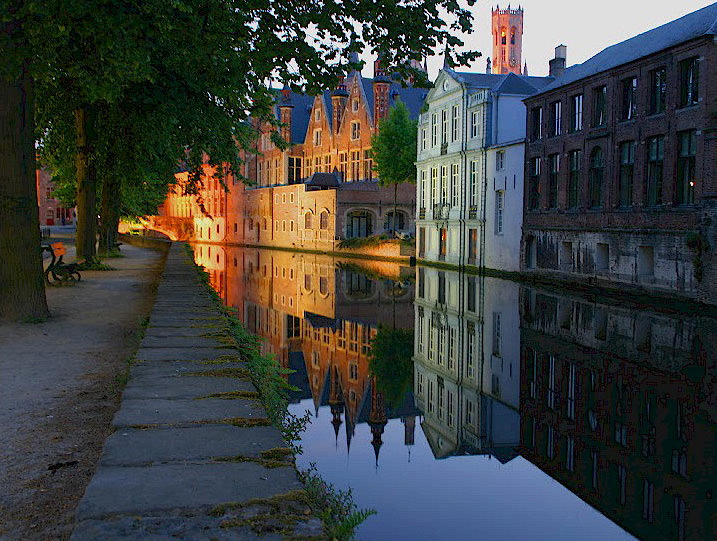 Whilst in Bruges we have learned that some roads are not suitable for a MASSIVE van, that veggie burgers here are rectangular and of an alarmingly red hue, that even in idyllic medieval towns people still start epic bar brawls when someone looks at the wrong girl in the wrong way, and that Eddie the naval engineer from Northampton (who Louis met on the way back from the bar) is having a distinctly unremarkable time on the continent.
We dearly wish we could spend more time here – the little we've seen on our walk around the old town has engendered in us a very real desire to return. Hopefully we can build it into the next tour.
But now to bed (bunk beds if you must know – pairings are: Fran/Tom, Biff/Louis, Dan/Cleg).
We leave for Mannheim at 9.00am…
***
Mannheim: 17 March, 2011
Tonight's show in Mannheim couldn't have been a better start to the German leg of the tour. We arrived an hour early (very rare!) and were shown to the artist area, which contained a well stocked beer fridge, tea and coffee making facilities and comfy sofas with adjacent dining table set up (seriously).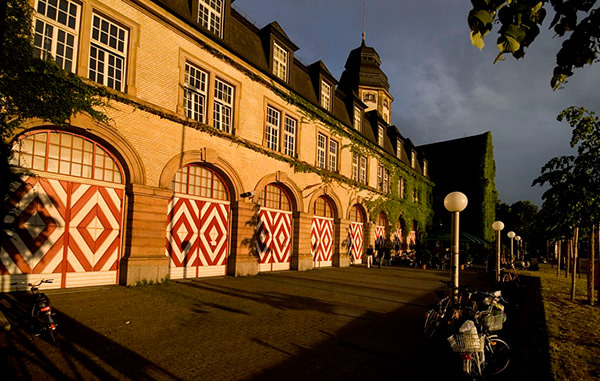 Once we had well and truly unwound from the admittedly uneventful journey from Bruges (where it was nice to be able to add Holland to the list of places we have now technically been to even though we didn't actually stop the van to set foot on Dutch soil) we had one of the most leisurely sound checks ever. The crew were all very friendly and unhurried – as keen to get the best sound out of us as we were.
Once everyone was happy with the levels and monitor mixes Louis went off for an interview with one of the local papers while the rest of the band watched incredulously as yet more supplies were added to the backstage area (including some of the best sandwiches we have ever tasted – you know that fine balance with brie where the consistency is full bodied but not at the expense of creaminess? Well, they do too).
Then they took our orders for dinner.
Yep, those amazing sandwiches weren't dinner – they were just a snack before the main event.
This particular meal was more than any band usually has the right to hope for (let alone expect): delicious, well presented, with actual vegetables etc, served in huge portions…I could go on).
If the venues here are all like this it's going to be very hard returning to the flaccid egg mayo triangles and warm Carling of the UK live circuit.
As for the gig itself: we played a sixteen song set to a very warm and communicative audience who were an absolute pleasure from start to finish.
After a brief encore, a quick towel down and a lot of autograph signing (still not used to that, really need more marker pens – not something anyone considered when stocking the van) we headed to the hotel that Alte Feuerwachen booked us into (complete with cooked breakfast – luxury!). Tonight we are arranged two to a room (pairings are: Fran/Louis, Tom/Dan, Cleg/Biff). The rooms are warm, the beds are high with thick mattresses and thin duvets, and in one there is a TV screen sporting the words "Welcommen Herr Barabbas". There is a real sense that transparently seared into the cream coloured walls of each one is the phrase:
"Good work son… your musical stock just went up."
***
Offenbach: 18 March, 2011
We arrived at Friday's venue, Hafen 2, an impressive five hours early. The cafe next door was just waking up and allowed us to nurse a few cups of coffee while they mopped the floors and prepped the food.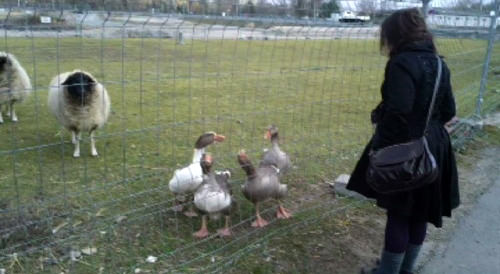 This is the only venue we've played that has sheep and geese roaming around outside. The urge to raise our eyebrows and say "Chicken Wire?" was almost too much to control.
Once again the hospitality was glorious. Self-catering rooms had been prepared for us above the venue with a huge pot of Thai green curry bubbling away on the stove, timed to reach perfection after soundcheck.
Like Mannheim, the tech was thorough and exhaustive, we played a good four or five songs before the engineer was happy with the sound. Louis was then whisked away for a telephone interview with the local radio station and then dinner was served.
Next stop is Erfurt Jazz Club.
***
Erfurt: 19 March, 2011
Last night's show at the Erfurt Jazz Club was the best yet.
The drive from Offenbach was a relaxed one (we even started the day with a game of frisbee) and we checked into our hotel in Erfurt in time for a short nap before sound check. The venue was underground near the main square, a wonderful low-ceilinged white stone cavern with an upright piano in the corner.
Inexplicably tensions began to rise once we began setting up the stage. Biff nearly concussed himself on entry (he's a tall man) and Tom was wrestling with the birthday blues. Still, once we emerged from the backstage area (AKA stock room) and kicked into the opening bars of Mother before a packed crowd everything fell into place. We had been concerned about playing in a traditional jazz venue – worried that our brand of Rock-Swing might seem sacrilegious to some – but our fears were unfounded. We played twenty songs and two encores and then drank the bar dry with some of the punters after (accompanied by Fran playing Duke Ellington numbers on the piano).
We are now going to try and see a bit of Erfurt before setting off for Leipzig…
***
Leipzig: 21 March, 2011
Though last night's audience was our smallest yet, they made good fireside companions after the show and the venue was certainly the most interesting one we've played on the tour so far.
An old Victorian (well, German equivalent – Wilhelmian?) leisure complex currently in a dramatic state of half-decrepitude half glorious arts space, Villa Hasenholz was built in 1872 as a destination for the rich and precocious to indulge in clandestine liaisons (or family friendly vacation equivalents). Quite literally on the wrong side of the tracks (the rural side of the railway line, twenty minutes from the centre of Leipzig), there are two performance spaces in the old house: one a colossal old ballroom perfect for raves and grand parties, the other a bar with stage enclosed in a raised – slightly dolls-house style – large bay window lit by headless dog statues (where we played).
We made some good friends among the audience and organisers, every one of them generous, enthusiastic and interesting. As a band we have variously encountered numerous arts/gig spaces of this sort in our individual travels around the world – non-profit social centres, artist-run venues, squats, habitable works of sculpture and general party houses – none, however, have been so free of posers, so positively motivated, practical and welcoming as Villa Hasenholz.
We are all looking forward to returning to Leipzig and witnessing how work is developing on the Villa's reconstruction and what new plans they have in store for this beautiful and formidable independent venue.
Next gig: Weekender Club in Innsbruck, Austria
***
Innsbruck: 22 March, 2011
We rose variously between the hours of eight and nine to enjoy a leisurely breakfast of eggs (soft-boiled and scrambled), seeded buns, cheeses (brie, chevre, gouda plus a few unidentifiables), avocado, tomatoes, ham for the meat-eaters, homemade pesto and lots of coffee. Then at half past ten we bade our new friends auf wiedersehen and set off for the Austrian border.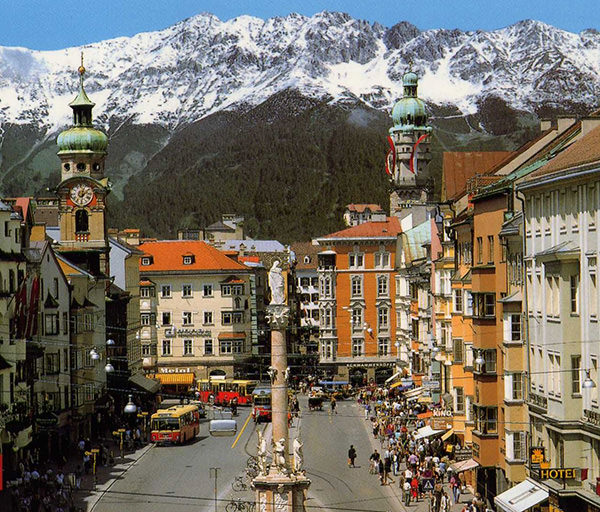 Our show at the Weekender Club in Innsbruck could not have been more different from its predecessor in Leipzig.
Fraught with onstage catastrophes that began with Cleg breaking a string on the very first strum of the opening number and then not being able to disengage the culprit from the headstock (and thus missing the first three and a half songs while he dashed off to retrieve our jamming acoustic from the band apartment), swiftly followed by Louis breaking his low E and violently ripping off his picking fingernail, and then Tom's hands somehow exploding against the snare rim in a pat of swollen gore.
These setbacks notwithstanding, the gig was an absolute triumph: lit and engineered by a flawless technical crew, played out in front of a 430-strong audience of manic dancers, crowd surfers and beard fondlers (as Louis discovered when he threw himself off the stage into the throng of women below) – the evening was a riotous blur of sweaty ecstasy and turbulent antics on both sides of the crowd control barrier.
We played a fifteen song set plus encore and then retired to the safety of the green room to polish off the generous provisions before heading up to our accommodation above the venue for a nightcap, shower and bed.
Early start the next day. No one, however, begrudges this journey when the scenery consists of sun-dappled streams snaking between the conifers that creep up the snow-dusted mountain peaks of the Austrian landscape in early Spring.
Next stop: Berlin.
***
Berlin: 24 March, 2011
Our show at Schokoladen (supported by the lovely Spring Leads You Home Tonight) was the most conventional gig of the tour thus far. A delightful bar run by enthusiastic Australian Sarah, the venue specialiaes in showcasing touring artists from all over the world to a mixed crowd that brings together skinny-trousered trendies with world-weary bar flies.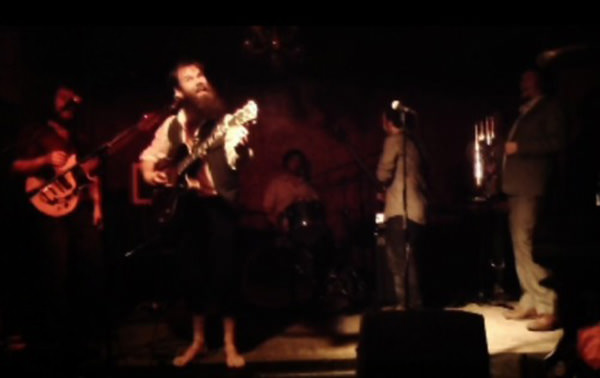 The stage was a raised box set deep into one wall with red theatre drapes and a few well-trained fresnel lanterns on the ceiling rig above. The sound engineer seemed a little reticent at first (apparently expecting something acoustic – how wrong he was!) but warmed to us once it became clear that we were NEVER going to play quietly no matter what he may have been in the mood for (so he might as well just enjoy it).
This was our first smoking venue since last year's Spain tour and Louis was a little worried about voice and energy levels (there's not much room to breathe during a Bedlam Six set as it is) so spent the majority of the pre-gig hours pacing the streets outside. He needn't have worried though, the show was the usual unrelenting mix of music and pratfalls and the audience all seemed pretty pleased with what they were witnessing (one man – a sinewy hirsute biker – bizarrely brought us a tray of Crème De Menthe at the set's midpoint – though we would been just as content with halftime oranges).
There were the predictable string breakages from Louis (plus his guitar seems to have become even more willful in its desire to go grossly out of tune between songs – will opt for the jamming acoustic for the remaining shows until we get to the root of the problem). One major difference, however, was in the field of footwear. The heal of Louis' right boot had been flapping slightly for the last few days but last night it came clean away, aborting the soft-shoe shuffling and dramatically hijacking the footstomps. So off they came – and socks as well – the first bare foot show in our history. The effect was oddly hobbit-like and Louis' long finger-like toes couldn't help but grip the trailing mic and jack leads, pick up the setlist and generally nauseate the front row as they gesticulated unnaturally under the cadmium yellow spot lights.
After the show we headed back for leisurely drinks at Dennis' apartment then rolled into bed around four.
Next stop: Hamburg. Shall we style our hair into mop-tops before or after the show, do you think?)
***
Hamburg: 25 March, 2011
We arrived at the Thalia Theatre in Hamburg at 4.00pm on the dot, our agreed load in time. The building was all height and corridors, false turns, teetering costume racks and heavy doors. We were carried up from the loading area in an enormous lift that can only be described as a clanging science-fiction set of grey industrial functionality, tall as a chapel and steeped in the hush of an expectant crypt.
The Zentrale Bar above the main theatre is a luxurious high ceilinged room with hot stage lights and splash-happy cocktail staff. The wall opposite the stage rises up from the tabled area in austere wooden tiers to a towering crescent window with cushioned sill. Needless to say Louis could not resist scaling this mountain during the run-around section in The Tell-Tale Hound (before leaping back to earth with a crash).
The audience were hard to gauge for the first few numbers. It was not a drunken pub crowd this time but an invisible congregation (due to the blinding spot light) of seated theatre-goers nursing sensible measures of gin and tonic. We took advantage of this more reserved crowd to throw in a few of our quieter numbers, Turn Out The Light going down particularly well. The response at the close of our seventeen song set was one of gracious elation and seemingly endless applause – no whoops here but one or two tactfully boisterous wolf-whistles.
For the rest of the night the bar staff treated us to whatever drinks we desired. Tom was on the White Russians, Fran a cognac, Dan a beer, Cleg and Louis a few generous glasses of single malt whiskey (Talisker) and a coke for driver Biff.
Next stop: Hannover
***
Hannover: 26 March, 2011
Our last German show was at Cafe Glocksee in Hannover. The word "cafe" here is somewhat misleading. The three hundred capacity venue is tucked away in a discreet courtyard littered with statues hewn from recycled machine parts; every inch of wall is covered in elaborate graffiti giving the impression of a dilapidated monument overrun with ivy – busy electric tendrils worming their way into the sagging masonry (and any vehicle left stationary for too long – our shiny white van must have looked tempting, it has never seemed more like a blank canvas). The bar is part of a former squat complex (the oldest in West Germany) run by a formidable posse of music-loving ruffians with silver teeth and cowboy boots.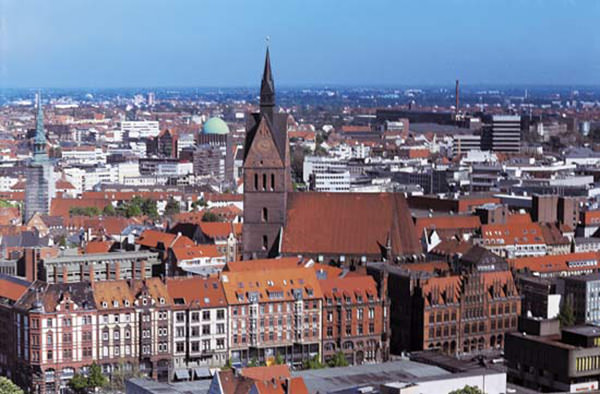 Between soundcheck and dinner we enjoyed a leisurely discussion about post-Berlin Wall German politics with a man named Ralph, a hippy and former cigarette smuggler whose house we were staying in after the show.
And what a show it was.
We were that month's featured Konzert in the Glocksee listings (receiving even more brochure inches than the much lauded C. W. Stoneking). As a result the place was packed with dancers and screamers of all ages, one of the best crowds we have ever played to. We gave them a full power rock set that did not let up for a single moment. During the show Tom broke no less than four drumsticks and Dan his low E string, we played two encores and were plied with quadruple whiskey upon quadruple whiskey (on the house) until the wee hours. Backstage the venue manager told us that Cafe Glocksee was built specifically for bands like The Bedlam Six and that we must return.
We will DEFINITELY return…
***
Ebensee: 27 March, 2011
We left Hannover bleary-eyed at 6.00am (with a bag of food provisions left for us by the Glocksee promoter) and spent about ten hours on the road between West Germany and Austria. Though mostly caked in fog it was obvious as we approached Ebensee that the vistas were truly stunning – glimpses of snow-capped mountains through chinks in the mist with the occasional muted reflection in the water below. After a rapidly aborted conversation about swimming in the icy river we parked up at Kino (the cinema/concert hall hosting us that night) and loaded the gear into the auditorium.
Over the years this stage has held the weight of such luminaries as Nirvana, Foo Fighters and Beck. Now it was time for The Bedlam Six to really show their chops.
When we saw the seating arrangement (plush evenly-placed theatre chairs) we decided to add a few subtler numbers to our conventional live set – it looked set to be a stationary listening crowd of chin-strokers and head-nodders. How wrong we were. After a long and mostly incomprehensible introduction by venue manager Klaus we burst into our favourite opener "Mother" and by verse four most people were out of their seats and whirling around the room, careening into each other and passing beers up to the stage. Even the photographers and radio people were dancing.
This was one of the oldest audiences of the tour and a real pleasure to play in front of (it's always rewarding to perform in front of people that musically came of age in the Sixties and Seventies – discerning crowds with high expectations and a generous collective demeanour, who push a band to their creative limits and always demand more).
We played until we bled. By the end, Tom's drum-skins looked like a Jackson Pollock canvas and Cleg's fingers appeared to have lost a battle with a cheese grater. We never thought anything could match up to the previous night in Hannover, but the Ebensee crowd proved us wrong (not to mention the wonderfully roomy stage with its red velvet drapes and ebullient lighting show).
When we arrived in Austria our cultural preconceptions consisted of little more than lonely goatherds and Julie Andrews – now we know that though the hills may be alive with the sound of music, most of that music is Rock & Roll.
***
The Road
This post is being written on the road from Austria to Switzerland. Yesterday's day off has refreshed everyone for our final show on the continent, but afforded us precious little anecdotal ammunition. After loading out of the venue in the morning Louis took a solitary stroll along the river while Cleg, Biff and Fran went for a drive to surrounding towns in search of open food stores (the locals seem to take their Sundays pretty seriously here – Ebensee was like a ghost town). Neither expedition yielded much fruit beyond the pleasure of the search (although the latter did involve pizza) and the groups soon reconvened at the Pension Ahamer to watch movies and snooze.
Rain kept us indoors from that point on and, though it was a shame not to make the most of this potential exploration time, we relished the rare opportunity to enjoy a lazy Sunday afternoon indoors after the high-octane shows of the previous two weeks.
This morning we breakfasted at 8.00am and were on the road by half past. After the mountain ranges of Austria our surroundings have been comparatively unremarkable – the little we saw of the building site that is currently Munich soon had us all immersed in various books and road maps, occasionally breaking the silence to read aloud choice extracts and amusing place names.
We have now just bought our toll sticker for use on the Swiss roads – an unpleasant thirty euro sting for such a brief foray into that region – and are at present hurtling past the flat and mysteriously steaming toiled soil of German farmland towards the sixth country of the Get ReligionI tour (ninth if you count the three places we drove through but didn't perform in – Belgium, France and Holland).
Let's hope this final gig will be a fitting end to this wonderful musical road trip.
***
Basel: 29 March, 2011
After repeatedly falling foul of Basel's bewildering one-way system (which compelled us to cross the river no less than four times) we reached the final venue of the Get Religion! tour – the legendary Hirscheneck, a non-hierarchical anti-corporate bar/restaurant/venue established in the late Seventies and still going strong without any hint of compromise.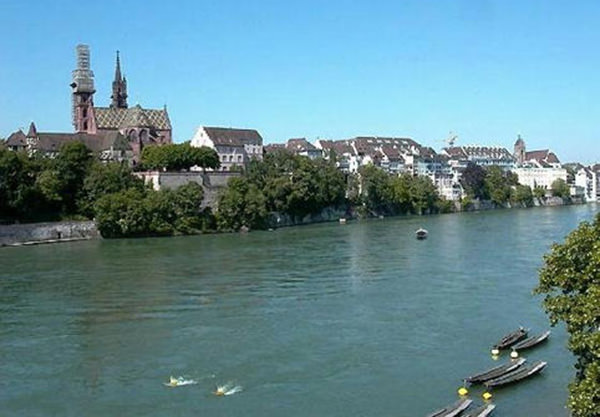 The performance area was underground and hot, a thin cave of a room, the stage something of a squeeze for a seven-piece (especially one that moves about as much as us). This was going to be a very close and sweaty finale to the tour.
After being shown to our rooms (several floors above the venue housed in a building we later learned had been erected in the early fourteenth century and had survived both fires and earthquakes during its half-millennial span) we dined in the restaurant and spent the best part of an hour trying to work out if there was one single album that all of us owned in our formative years – it turns out we all have Nirvana's Unplugged In New York and The Band's The Last Waltz. Make of that what you will.
There was a slight tension in the air before we took to the stage; a certain unspoken concern that this might be the night that would scupper our full-house of great continental shows – every gig thus far had been superb in a myriad of unexpected ways. This was the last one and we all wanted it to go well, we wanted the crowd to smile and dance, we wanted to be asked back for more. We'd never been to Switzerland or even met anyone from here but we had a palpable desire to be accepted and embraced (and we didn't even know if anyone was going to turn up – it was a Monday night after all).
We needn't have worried. The room was packed. Through the blinding stagelight gleam, the brow-sweat and cigarette haze was the formidable silhouette of a heaving throng for which the moribund weekend was still very much in full swing. We played an unrelenting set of rock numbers, the hottest show in our history, stripping away ties and shirts to keep from passing out, it was a great end to a great tour, the single best fortnight in this band's history – one that we will not forget.
The only real mistake we made that night was in our merch stand's conversion from Euros to Swiss Francs. Not taking into account any financial factors beyond the basic exchange rate, we ended up selling our records for less than the price of a rum and coke.
Really though, it's hard to care about such oversights when no one lets you buy your own drinks.
***
Homeward Bound: 30 March, 2011
So back we piled into Bessie the Bedlam Van for the longest journey yet – the trip home.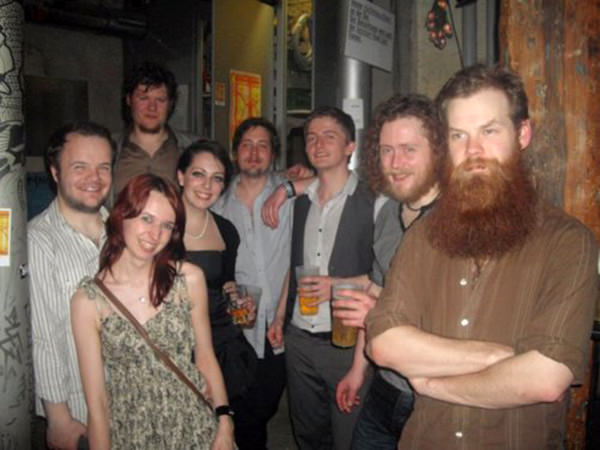 With a good breakfast inside us we headed back towards the Swiss-German border and snaked our way through Luxembourg and Belgium, doing our best to avoid the French toll roads before reaching the ferry port at Calais some eleven hours later. Those in the back of the van tempered the mixed emotions of the return journey by demolishing the liquor stores we'd amassed from a fortnight of generous backstage riders. The trip is, consequently, something of a blur.
So ends the Get Religion! tour.