The Bedlam Six and I were in London recently and met a couple of Blockheads.
That sentence came out a little too easy. If there's one thing that every member of my band can agree on it is that The Blockheads are among the very best live acts on the circuit (and have been, off and on, for over thirty years). It was a real pleasure hanging out with vocalist Derek and manager/guitarist Lee, swapping gig anecdotes and personal bugbears. Lovely people.
I can only think of two bands that have successfully survived the death of an iconic lead singer: Queen and The Blockheads. The difference is that Queen are now more brand than band, their post-Mercury live shows being a tribute to their past glory rather than a creative continuation – like a traveling carnival exhibiting a frozen wooly mammoth or embalmed despot. That sounds cruel but I don't want it to be, I have a lot of love for Queen and their formidable legacy (even though that word "legacy" is now so easily interchangeable with the word "franchise").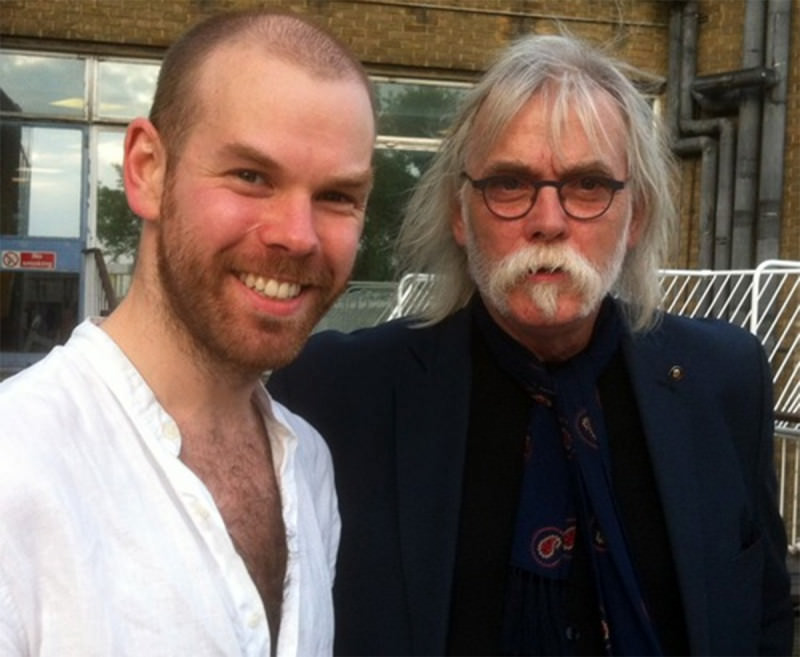 The Blockheads are different though. Now fronted by Ian Dury's friend and minder Derek Hussey (aka Derek The Draw, pictured here) the band are still a formidable force in their own right, indeed there is not a whiff of nostalgia about their shows. Lee and Derek were telling me they try to avoid the retro circuit (one that I imagine is pretty lucrative in the short term) as they dread the idea of being reduced to just another heritage act: "once you lose your cred" says Derek, "it's very hard to build it back up again."
The reason my band admires them so much is that we all want to be doing this for a long long time and the only way of doing that is by being really really good. There are no shortcuts, not ones that take you anywhere particularly secure or useful anyway. The musicians that make up The Blockheads are REALLY good, there's no deadweight. It may have been Ian Dury's charisma and theatrics that caught the public imagination but there would have been nowhere near the impact without the collaboration of that band. Indeed, Dury was a famously disruptive character who even sometimes got banned from the recording of his own songs.
I don't tend to write much about other musicians in these blogs (not specific ones anyway) but I guess it's quite telling that the three I have chosen to pen pieces on over the years (John Otway, Levon Helm and now The Blockheads) are all acts that never enjoyed all-pervasive or prolonged acclaim, never settled into super-stardom or got weighed down with an overly cumbersome mythology (of the Dylan/Beatles/Hendrix variety). One doesn't tend to see their faces looking out from the posters hung up around teenagers' bedrooms or student digs. The reason they occupy such a prestigious position in my list of influences/inspirations is that none of them relied on anyone's permission to do what they do/did – they just got on with it (and then kept on getting on with it against the odds). No one expected the story of The Blockheads to have a second act but they wrote one nonetheless. A really good one. "Staring Down The Barrel" (the last album, co-written by Derek) is a colossal achievement that no one was asking for and yet, when it came out, people praised it far and wide (the main track "Greed" about corrupt bankers and politicians is a particular tour de force). It stuns me daily that such a gigantic portion of the internet generation(s), though glued to this ready-made and ever-expanding platform/distribution network, so continually relies on the endorsement/encouragement of others. It's baffling and depressing. And boring. En Avant!
Still, The Blockheads keep on putting other bands to shame and long may they continue to do so. When I die I want to have "What A Waste" played at my funeral. The first line of the chorus always resonates with me for some reason…
"I chose to play the fool in a six-piece band…"