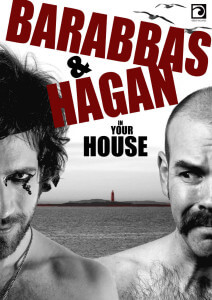 My friend/label-mate Felix Hagan and I are heading off on a little acoustic tour of the UK (I would say "England" but the recent addition of Wrexham means our little jaunt just about qualifies as two nations), performing in living rooms and gardens around the country.
Both of us have come from theatre backgrounds and naturally enjoy putting on a bit of a spectacle – we like high stages to fling ourselves off and powerful spotlights to illuminate every bead of sweat. But we also like to get up close to people and that simply isn't an option in a lot of venues. So it seemed a natural step to strip everything back as much as possible and see what we're left with. We're both looking forward to it immensely.
The itinerary is below (message me direct for addresses and details).
As you can see there are some gaps in the schedule. If you'd like to host a concert do get in touch. It may sound daunting having strangers in your house making noise and frightening the cats but it can be as low key as you like – there are both amplified and acoustic options depending on space and the whole thing can be limited to just your friends if that's preferable. Mostly we just want to meet some of the people who listen to our music!
15th June – SOUTHAMPTON
16th June – BRIGHTON
17th June – SURREY
18th June – ?
19th June – LONDON
20th June – NORWICH
21th June – ?
22th June – LEEDS
23th June – SALFORD
24th June – PRESTON
25th June – WARRINGTON
26th June – No house concert (Louis supporting Bellowhead)
27th June – WREXHAM
28th June – BURY